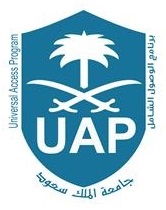 برنامج الوصول الشامل
UNIVERSAL ACCESS PROGRAM
(UAP)
UAP Values
To ensure the success of our strategic plans, we believe at UAP that it is an essential step to identify a set of values to govern the work- flow both within the Program and its transaction with entities at the university. We are determined to mobilize the means required to implement these values through an invigorated Sustainable Development, based on a spirit of strengthened solidarity.
Equal Opportunity: UAP is required to make reasonable adjustments, to allow students with disability to participate in education on the same basis as other students.
-Excellence: excellence translates into all aspects of our workplace. It is our personal and group commitment to doing what we do well. We drive for best results and are agile in addressing new challenges.
Empowerment: We are committed to providing our employees an empowered, results-oriented and values driven work environment with equal opportunity for learning and personal growth.
Teamwork: We promote and support a diverse, yet unified, team. We work together to meet our common goals. Our diversity that results from activating the role of the specialized committees is unified to achieve the Program aims.
One goal: We believe that we are one team with one goal, inspired by a genuine desire to achieve the vision and mission of the university.